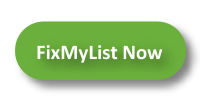 Email List Cleaning Services by
FixMyList
.com
Email List Cleaning & Repair Services.   Affordable Solutions for Email Marketing Lists!
Eliminate your Hard-Bounces
Improve and INCREASE Email Deliverability
Reduce Complaining
Add a Layer of Fraud Protection
Stop getting tossed into the SPAM folder and reach those inboxes again!
There's a great way to ensure that your email lists stay healthy.  It's called FixMyList.  Email marketers can battle with trying to keep a high rate of inbox deliverability. Every hard bounce and message marked as SPAM can ruin your email reputation which could lead email sending companies to halt your campaigns or drop you altogether.
That's why you need to identify and drop bad email addresses.
Here's what happens:
FixMyList checks email addresses in real-time against individual mail servers.  Each address is checked to make sure the user name exists.
Your email marketing list will be checked for validity and activity.  This means that they will first be examined to make sure they comply with delivery standards and proper format.  Addresses that are too jumbled or improperly formatted will be rejected and removed.
Email addresses are checked to make sure the username exists at the domain.
Next up… the email list will be checked for "cleanness". They will be examined for typos, spelling errors, incorrect domain suffixes, and other common errors.  In many cases, even one mistake caused by a missed keystroke can turn a valid address into a junk address.
Finally, the addresses will be checked for signs of spam activity.  If spam addresses are introduced to your marketing lists, you could end up sending marketing emails to scammers and fraudsters.  This could increase your chances of receiving junk emails, slowing down your response times and potentially introducing vulnerabilities into your inbox.
Once the scan is complete, we will send you back the file and you can remove all records that don't pass verification, leaving with you with a clean list to send your marketing promotions to.
What are my next steps?
Complete our quick online form (link below) or click here.
Upload your list
Submit payment
Stand by & let us do our magic.  Turnaround is usually within an hour & takes a bit longer for larger lists.  Don't worry…we don't like waiting either & we will keep you posted every step of the way.
We will return your list with a field added marketing every single address as valid or invalid. Our system also goes that extra step to flag people that complain & mark as SPAM as well as 'potential risk' emails.  You will also receive an easy to read report that will outline the results of our scan.